ACTIVITIES
---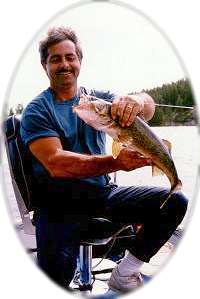 Classified as a Natural Park, the Whiteshell Provincial Park offers many recreational activities while preserving areas th at are representative of Lake of the Woods portion of the Manitoba Lowlands Natural Region. The park provides nature-oriented recreational opportunities such as hiking, canoeing, mountain biking, snowmobiling and skiing (both cross country and downhill) a s well as providing high-quality cottaging, camping and boating. The park accomodates related commercial developments, services and facilities such as lodges, trails, campgrounds, day-use areas and picnic sites.
West Hawk Lake, the deepest lake in the province, was formed by a meteorite,and is a popular spot for scuba diving. This lake is now being usedthrough all the seasons for diving, including ice diving.
Fishing
The 200 lakes inthe 2,729 km2 of Park offer walleye, northern pike, perch, smallmouthbass and lake trout fishing excitement.
---
Hiking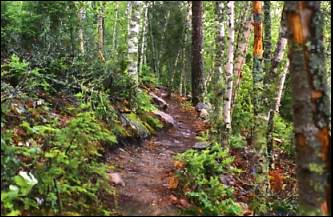 The Whiteshell Park provides some of the most spectacular hiking trails in the province. Trails range from pleasant 3 km jaunts to the challenging 60 km Mantario Hiking Trail. Rock outcrops, beaver dams and wildlife make each hiking experience a new experience. Don't forget your camera, insect repellent and proper footwear no matter which trail you choose.
Check o ut the hiking page for more information about specific trails.
---
Water Skiing
With all the water available in the Whiteshell Park, water skiing is a popular and fun activity to take part in. The Freeriders Club (contact Duncan Jessiman 774-8188), The White Lake Ski Club (contact Richard Bobrowski at 489-0924), and the Betula Lake Skibees (contact Kurt Proctor at 757-2658) are all present in the area and welcome others to the sport.
---
Recreation
Falcon Lake Townsite will treat you with miniature golf, lawn bowling, horseshoe pitch, tennis courts, 18-hole golf course and a riding stable. Campgrounds and resorts are available for accommodations.

The South White shell Trail is a 13 km four season multi-use trail for cycling, hiking and cross-country skiing. The trail, completed in the fall of 1997, connects Falcon and West Hawk townsites.

A 4.2 km Mountain Bike Trail is a loop available at Betula Lake on PR 307. The trail connects Forrester's Footsteps self-guiding trail, so cyclists can expect to encounter hikers along the way. Please be courteous to hikers.
---
Winter Activities
The lakes in the Whiteshell Park usually freeze over right around Christmas and the winter recreation season begins. By then there is usually a thick layer of snow on the ground: perfect for all your favorite winter activities. E njoy
cross-country skiing
snowmobiling
ice-fishing
down-hill skiing and biathlon at Falcon Lake
walking / hiking Jessica Lake
snowshoeing
Winter recreation maps are available from the park offices. Hotels and lodges in the park a nd in nearby towns offer year round accommodations and amenities.
---
Canoeing is...excitement, solitude, discovery. The Park offers up to 325 km of canoeroutes. Paddlers on the Caddy Lake Canoe Route pass through tunnels ina wall of rock. The tunnels were created when the r ailway came throughthis area more than a century ago. For those less adventurous, you canspend a pleasant hour exploring a quiet stream. The streams and riversare natural highways for beaver, mink, otter, and weasels, to name a few.Deer, moose, and fox co me down to drink along the shores.Check out one of the Whiteshell's most popular canoe route, the Caddy Lake Canoe Route. 105 miles of lakes, rivers and portages takes you through the ent ire Whiteshell terrain.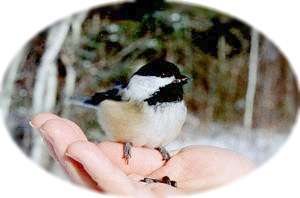 Bird watching is something everyone can enjoy from their cottagewindow or along one of the hiking trails. Some of the popular birds thatyou will encounter i n the Park are chickadees, grey and blue jays, pineand evening grosbeaks, redpolls, and, of course, woodpeckers. Owls canbe spotted anytime during the year, and in the summer months, watch formagnificant bald eagles and the delicate ruby throated hummingb irds.

While staying inthe Park, try golfing at one of our two courses. Falcon Lake GolfCourse is one of Manitoba's finest and most challenging courses. Pinawa'sGolf Course is rated at one of the top 10 of Manitoba's rural golf courses.

If horse back riding is your pleasure, you will find it at theRiding Stables at Falcon Lake.

Sky watching! Some evenings, the Northern Lights are so energized,they will dance across the sky. In the last year, two comets have providedviewe rs with spectacular viewing, the Hyatukake and most recently, Hale-Bopp.

The Whiteshell Park has over 200 km of marked and groomed snowmobilingtrails. Whether you take a short ride to one of the many warm up huts orset out for the day on the tra ils, the Canadian Shield provides a breathtakingbackdrop to exhilirating sledding. This extensive system of trails passthrough forests, frozen muskeg and across lakes; opening up parts of theWhiteshell inaccessible in the summer.
---
E ven if you don't want to partake in any specialized activities,the Park is definitely the place to sit back, just relax and enjoy its natural beauty.
---
[Homepage]
[Area Attractions]
[Resorts & Services]
[Events]
[Location]
[About This Site]
©Copyright 2013 No Limits Internet Solutions Inc.